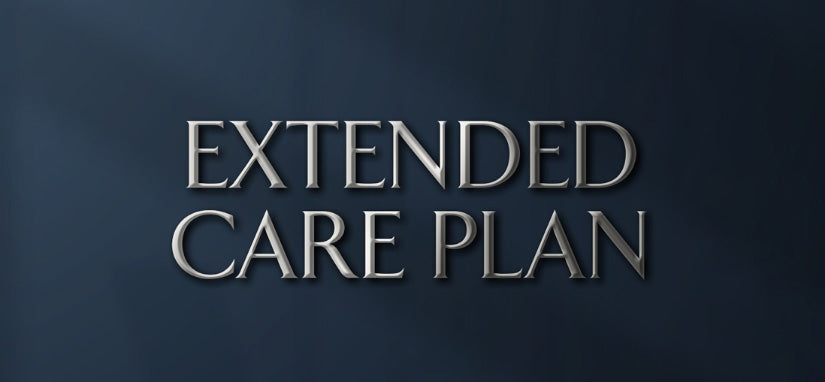 Extended Care Plan
PEACE OF MIND
Since 1903 Mazzucchelli's has been dedicated to providing our customers with exceptional quality and service. The Mazzucchelli's Extended Care Plan is an extension of that service offering you peace of mind protection on your fine jewellery purchase. Our service plans are available to you in either 3 year or lifetime packages.

COMPLIMENTARY
Services covered by our plans are:

Ring sizing (up to 2 sizes);

Resetting and tightening of stones;

Rhodium plating of white gold (every 12 months);

Re-tipping of prongs;

Cleaning, inspecting, refinishing and polishing;

Chain and bracelet soldering and clasp replacement;

Earring repair.
| Retail Range | 3 Year Plan | Life time plan |
| --- | --- | --- |
| Below $99 | $19.99 | $29.99 |
| $100-199.99 | $34.99 | $69.99 |
| $200-399.99 | $49.99 | $89.99 |
| $400-599.99 | $59.99 | $119.99 |
| $600-799.99 | $69.99 | $139.99 |
| $800-999.99 | $79.99 | $169.99 |
| $1000-1249.99 | $99.99 | $179.99 |
| $1250-1499.99 | $129.99 | $199.99 |
| $1500-1999.99 | $149.99 | $249.99 |
| $2000-2499.99 | $169.99 | $289.99 |
| $2500-2999.99 | $179.99 | $329.99 |
| $3000-3999.99 | $189.99 | $429.99 |
| $4000-4999.99 | $199.99 | $479.99 |
| $5000-5999.99 | $229.99 | $549.99 |
| $6000-7999.99 | $249.99 | $629.99 |
| $8000-9999.99 | $329.99 | $699.99 |
| $10000-14999.99 | $449.99 | $829.99 |
| $15000-19999.99 | $599.99 | $1099.99 |
| $20000-24999.99 | NA | $1399.99 |
| $25000-29999.99 | NA | $1699.99 |
| $30000-39999.99 | NA | $1999.99 |
| $40000-49999.99 | NA | $2499.99 |
| $50000-59999.99 | NA | $2999.99 |